AMPIRE OBD-Firewall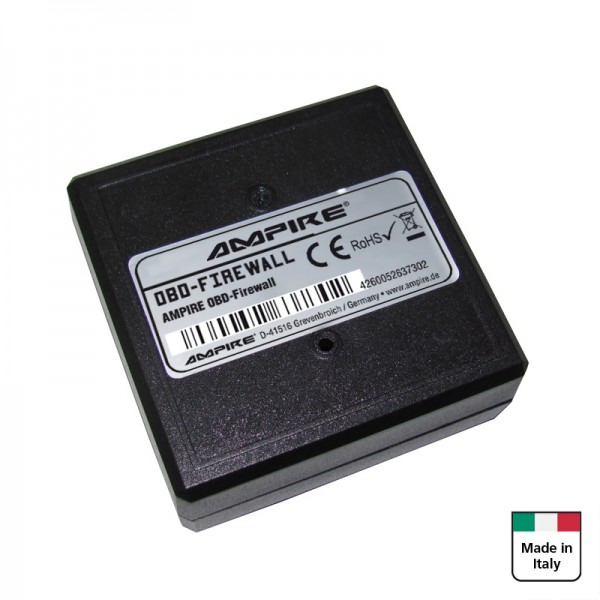 AMPIRE OBD-Firewall
A new and advanced technology, long term experience applied to an innovative system, a new weapon to fight the evolving thieving strategies!
OBD2 Socket Shield
A discreet and powerful tool which enhances the security of the car data system against unauthorized access through the OBD diagnostic socket.
Plug & Play
Fast and effective set up with the dedicated Plug & Play harnesses. No visible modification of the original socket system. Ready to work and protect your car in few moves.
FIREWALL OBD2 creates a safety barrier between the external devices and the data bus protecting vehicle functions against unauthorized access and manipulation. Using key duplicators and an accessible OBD II socket, a car thief can easily generate new access codes, outflanking in a few moves the existing car alarm system. FIREWALL OBD2 protects the car preventing that from happening!
FIREWALL OBD2 connects through a Plug & Play harness to the OBD II wiring, replicating its socket thus functional operations remain unchanged: diagnostics through the socket will be always possible in normal situation and prohibited in anti theft mode.
FIREWALL OBD2 can operate in stand alone configuration by means of a remote control. When a car alarm system is installed, FIREWALL OBD2 can be linked to it and automatically activates the data protection mode when the alarm is inserted.
FIREWALL OBD2 automatically switches to low consumption mode when there is no data exchange on the Can bus. As soon as any activity is detected on the bus, FIREWALL OBD2 immediately restores the communication channel. No data exchange is allowed in any way through the OBD socket when the system is in protection mode.
HOW DOES IT WORK
The most advanced car thieving strategies involve the access to the vehicle data system through the OBD socket. FIREWALL OBD2 interposes an electronic barrier which prevents unauthorized connection through the protected port. The FIREWALL OBD2 is capable to work as a stand alone device, operated by a remote control or a concealed switch; when an alarm system is already installed in the vehicle, it is possible to link it to the FIREWALL OBD2 in order to activate the complete car protection in one single move.
Characteristics
Specifications
OBD Security